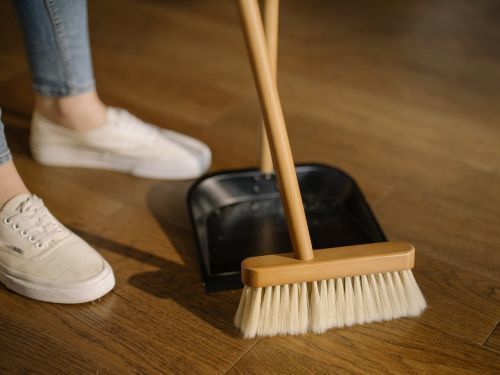 Okay, so cleaning may not be at the top of your "fun" list. However, spring cleaning can be the perfect opportunity to get inspired. In fact, spring cleaning can help boost happiness, promote health and wellness, and provide a multitude of benefits. We're not just talking about the traditional spring cleaning here, we're talking about much more. Check out these five spring cleaning tips to help promote a happy and healthy lifestyle as the seasons change! 
1. Clean Out Your Home and Closet
We'll start with the obvious spring cleaning activity. It's time to give your spring cleaning a new meaning! Cleaning out your closet may not seem like fun, but you'll also create space for some fun new finds. Plus, you can donate your gently used items to those who need them most. You can do the same with household items. There are plenty of people in need, and you may be looking to create new space in your home. 
2. Clean Up the Community
Unfortunately, litter is bogging down our planet no matter where you live. Use this as a time to clean up the community you know and love. Walk your neighborhood or visit a local park with a pair of gloves and a trash bag. Invite your neighbors or family to help take part in a community cleanup day in order to make your efforts go further in less time!
3. Clean for Someone Who Can't
Volunteer your time at a local nursing home where you can interact with the residents and lend a helping hand. Or, volunteer to do chores for a neighbor who may be struggling. Making yourself happier isn't always about focusing on yourself. Sometimes, it's about what you do for others! Performing kind acts for others has been shown to release feel-good endorphins. 
4. Clean Up Your Budget
There's no time like tax season to reconsider your budget and finances. Figure out what you're spending currently, where the money is going and where you would be willing to cut and would like to splurge. Consider if you'd like to include extras such as charitable giving in your budget. 
5. Clean Up Your Plate (In More Ways Than One!)
No, we're not suggesting you eat everything on your plate! Instead, use this as an opportunity to reevaluate what's on your plate and where you could "eat clean." As a rule of thumb, try to fill up at least half of your plate with veggies. If you're looking to make healthy changes, look at where you could substitute healthier options.

Speaking a little less literally, you can also clean up your plate of tasks. Consider what's most important to you, and make sure to schedule time to do what you love. Overscheduling may seem like you're pleasing everybody at the same time, but it ends up in burn out. Practice saying 'no' when you feel like you need to reset and recharge to put your best foot forward.
Spring is a time of renewal, and cleaning doesn't have to simply mean scrubbing the floors! Try these cleaning activities to promote a happy and healthy lifestyle. Even if you focus on one of these tasks, remember that you're taking a positive step toward building healthy habits.